Have you ever baked a cake, followed the recipe to a T and it didn't come out quite right? Maybe it isn't the recipe. You might be using the wrong pan for your baked goods. Yes, knowing the right types of pans and their uses matters!
Choosing the right types of pans is as important as using the right flour to achieve the perfect bake. After all, it is the vessel that holds your batter until the baking process is complete.
Moreover, it is quite confusing to know which are the right types of pans for your tasks when these come in all shapes and sizes!
Round pans for cakes? Why don't you use square pans instead? Tube pans, what are those? Bundt pans, cupcake pans, silicone pans and the list goes on and on and on.
To make things simpler, let's get to know the most common types of pans and their uses. If you are a new baker or somebody who wants to expand their cooking ware collection, you will be glad to know that you don't need to buy all the pans you see on display in a baking store. If you are a seasoned baker and would like to declutter, this list will help you choose which ones are for keeps.
Traditional Cake Pans
Traditional pans are used to bake cakes. They are typically circular, square and rectangular. There are some that are hexagon-shaped. Some are oval. But they all have high straight sides and a flat bottom. The cakes from this type of pan are ideal canvasses for cake decorators. These are an absolute must-haves in your kitchen.
Sheet Pans
A sheet pan has a shallow rim (approximately 1/4 of an inch) on all of its sides and a flat bottom. This is the most versatile type of pan to have. You can bake cookies, scones, breads and the like. They are also used to bake and roast savoury dishes! You can call it the most hardworking pan in your kitchen.
Sheet pans comes in several sizes. Quarter sheet pans (9′ x 13″), half sheet pans (13″ x 18″ ) or baking sheets, and full sized commercial grade sheet pans (18″X26″).
Cookie Sheet
Cookies sheets are quite similar to baking sheets. But they are flat. This is to ensure that cookies will bake evenly and are easier to maneuver with a spatula since there are no sides to speak of. Although some models sport a "lip" on one side for ease of sliding them in and out of the oven. But of course you can still bake your cookies in a sheet pan if you prefer. For more in depth knowledge on these yummy little bite-sized wonders , The Bailiwick Academy has a great course on just cookies!
Cupcake or Muffin Pans
These pans are used to make muffins or cupcakes. They have individual pockets or wells and this his is where the batter is poured.
However, these type of pans aren't limited to cupcakes and muffins. They have also other uses. How about mini deep dish pizzas? Sounds good? Ensaymadas, cinnamon rolls, dinner rolls…ahhh, I could go on and on. Oh, and if you have excess milk, stock or fruit juice that you don't want to throw away… you can pour them into these muffin pans and freeze them! You'll have instant individualized portions! Pretty neat, huh?
Loaf Pans
Now here is another type of pan that can be considered a kitchen essential. Loaf pans are rectangular in shape with deep sides. It comes in variety of sizes. The most commonly used one is the 9″x5″. A loaf pan is best known to make loaves of bread or pastries such as the ever-popular banana loaf. But did you know that breads and pastries are not the only ones that you can make with your loaf pan? Yup, another versatile pan here! You guessed it right! You can use this pan to make savoury dishes such as meatloaf! How about lasagna? Yup, you can absolutely do lasagna and other delicious dishes and favourites such as terrines, pull-apart breads, pasta bakes and even ice cream!
Bundt Pans
Have you seen those unique ring shaped cakes that looks gorgeous even without any fancy frosting? Oh yes! Those were made possible by using the Bundt pan. A Bundt pan has distinct decorative concaves on its sides and a tube in the middle which makes a hollow center in the cake. The tube in the middle results to more of the dough touching the surface of the pan. This means that the heat distribution within the pan is even and makes the baking process quicker. Bundt pans are usually used for dense cakes such as butter and pound cake. A Bundt cake, as mentioned, is easy to decorate. With its unconventional shape, dusting it with powdered sugar or pouring chocolate ganache on it will already give you that picture perfect cake.
Tube Pans
A Tube pan is similar to the Bundt pan when it comes to the hollow tube situated in the middle of the pan. But tube pans have straight sides and flat bottoms. Tube pans are usually used to make light and airy textured cake such as the angel cake, sponge cake as well as chiffon cakes. This is the reason why it is also referred to as the Angel Food cake pans. These types of cake use very little chemical leavening agents or none at all and rely simply on the whipped egg whites for leavening. And since this pan is usually used for these kinds of cake, Tube pans are designed with a detachable bottom and has a cooling feet. The design of the Tube pans help as the batter expands and rise and preventing these delicate cakes from collapsing.
Springform Pans
Springform cake pans are the kind of pans that have detachable sides. It comes with a latch on its side. This latch is used to loosen and detach the sides of the pan from its bottom part. This type of pan is usually used for cream cheesecakes, ice cream cakes and other desserts that are delicate, those with loose toppings and those that will get damaged once pan is inverted.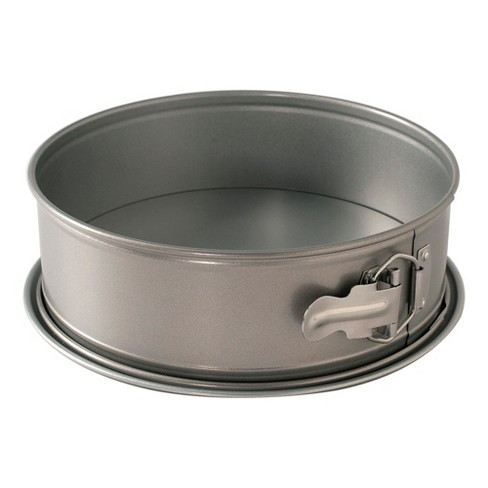 Pie Pans
Pie pans or plates are round bottomed pans used to bake all sorts of pies. They have slightly slanted shallow sides which is approximately 1 to 1 ½ inches in height.
Have you already thought of what to bake in your pie pan? Buko pie or Lemon Cream Pie perhaps? Incidentally, The Bailiwick Academy has great classes that carry these pies, namely; Meringue Desserts and Fabulous Pies. Or How about some savoury favourites like the classic Chicken Pot Pie?
Just imagining it makes you drool, right? So while standard pie pans have shallow sides, those used for savoury dishes are deep. It is usually an inch higher than the standard ones.
Jelly Roll Cake Pans
Jelly roll cake pans are similar to sheet pans with about an inch rim surrounding its sides. They are mainly used to bake thin sheet cakes that are rolled into a log. Yes, Jelly Rolls!
Pannerisms
Have we made things easier for you? We hope we did!
Since we know that your time is important, we've shortened all those information and made an easier reference for you! Here is a quick guide on the types of pans.
Of Types of Pans and Classes
Having a glimpse of the types of baking pans and their uses, I know you are all ready to bake some delicious treats. Well, have we got something for you!
Check out our great classes at The Bailiwick Academy where you will get to use your pans and more!
More is learning foolproof recipes that will definitely earn the WOWs of your family and friends! What's even better? You can make a business out of this! As a result, you will earn while doing what you love to do!
Don't wait for doors to open. Break through and create your own opportunity. Click on that button now!